Burlington Infant and Nursery School, New Malden in Surrey, has achieved the Inclusive School Award with Centre of Excellence status for the second time.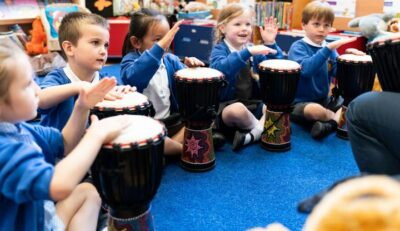 Introduction to Burlington
The Headteacher's welcome on the Burlington Infant and Nursery School website states, "We are a happy vibrant community school where diversity and individuality are celebrated. Staff, parents, Governors, and children are immensely proud of our outstanding school and what we achieve together." The inclusion provision for learning and pastoral development is clearly evident at Burlington Infant and Nursery School and this was highlighted in the meetings with all stakeholders, as well as in all documentation provided during the assessment day.
Ongoing and Supportive Collaboration
There is a secure and open relationship with all parents/carers and the attention that goes into including them in all areas of the school was discussed by all stakeholders during the assessment day. One parent stated,
"I am always supported, and my child is always supported. They know my child. They have always supported his needs before I have [even] told them."
She recounted an incident where her child was finding it challenging coming into school and stated that members of the SLT (Senior Leadership Team) supported her with this and collected the child from his home. The parent also recalled that on one occasion the child also accompanied the Inclusion Leader and a few other children to a pet store to buys fish for the tank in school. She highlighted how the pastoral needs of the school have benefited her child, who finds the cognitive demands of learning challenging.
Genuine Open Door Policy
The parent continued to explain how all members of the SLT are on each gate at drop off in the morning and collection at the end of the day. She discussed the differences between Burlington Infant and Nursery School and other schools and stated, "There is an open-door policy for sure. There is a member of staff on each gate, and they will always stay until the end of 9am to support and talk to parents/carers. You never feel rushed and always feel listened to."
"Mango and Fudge"
The school are starting to return to pre-pandemic practice and will begin Open Mornings to share learning and meet class teachers at the beginning of each year again. They pride themselves on their inclusive parent workshops which are designed for female and male parents/carers. For example, the school recently held their annual MANGO (mums, aunties, nans, grandma's) morning, whereby they looked at the children's work and projects in their classroom with their children. Similarly, a FUDGE (fathers, uncles, dads, grandad's) morning was delivered this year too and the same principle applied, whereby they looked at their child's work and project together whilst being accompanied by their child. One of the parents spoke very positively of these events and stated that she was a single parent and therefore was invited to both events, so as not to create any stereotypical norms and to effectively cater for all family set ups.
Technology and Communication
The school organises WhatsApp groups within the school and Class Reps are assigned to each class to provide key dates and information and reminders to parents/carers. She stated that although children may leave the school, the school continues to support parents/carers and children. For example, one parent stated that she required help with completing forms for an assessment for her child and came into Burlington Infant and Nursery School to ask for help and support, as she knew it would be forthcoming.
Robust Safeguarding Protocol
The safeguarding procedures in the school are robust and incidents are logged electronically. This will support with the handing over of information to the junior school, to other schools and key services as needed. Coloured forms are used within the school setting: blue forms for low-level incidents and yellow forms for medium-high level incidents and these are passed onto the Safeguarding Team. The Safeguarding Team seek support and advice from the SPA team in Kingston or MASH in Merton, for any matters that are deemed high-level and requiring multi-agencies. Safeguarding is everyone's priority.
Bright and Stimulating Environment
The outcome of planning, preparation and assessment time in the Attention Autism and Social Skills group sessions observed during the assessment day, made it evident that the training and skillset of the staff members is outstanding and the enjoyment and progress each child made in each of the sessions was something the school is extremely proud of. The Attention Autism Teaching Assistant and Social Skills Group Teaching Assistant both consistently used a 'Now and Next' schedule on their whiteboards and used Makaton throughout. The feeling of positivity as taught by Jenny Molesey, and the culture adopted at Burlington Infant and Nursery School permeated the room. It was a truly infectious atmosphere, and the enjoyment, laughter and praise left all jubilant and grinning from ear to ear.
Empowering Pupils
The children truly are the heart of the school at Burlington Infant and Nursery School. Not only is there a School Council, but there is an Eco Council and a Learning Council too. They were able to talk in detail about all the positive learning and rewards in the school, such as the 'Good Deed' weekly assembly and board in the school, which I observed during my visit. The Inclusion Leader stated that children were celebrated for their behaviours, and this linked in with 6 animals, which were beautifully displayed in the library. The children were able to explain what these animals represented and how they linked in with the school values: Polly Parrot – Perseverance, Lucy Lion – Learns from her friends, Olly Octopus – Makes good mistakes, Gerald Giraffe – Gives it a go, Tommy Tiger – Tries his best and Bernie Bee – Buzzes to work (is keen)
Find out more about the IQM Inclusive School Award
If your school is interested in obtaining the IQM Inclusive School Award or you wish to talk to a member of the IQM team please telephone:
028 7127 7857 (9.00 am to 5.00 pm)
or email: info@iqmaward.com for further details.
Want more information on the IQM Award? Click here to request your free IQM information pack