Burley Oaks Primary School in Bradford has achieved Centre of Excellence status.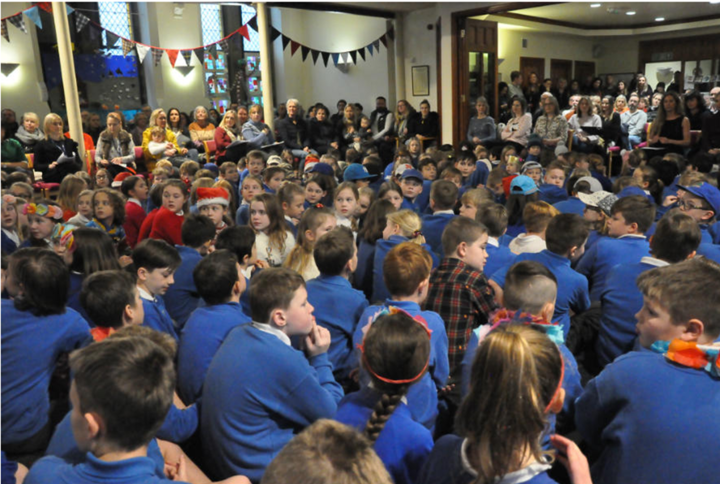 Context
Burley Oaks Primary School is an oversubscribed two-form entry primary school in the large, thriving village of Burley Oaks in West Yorkshire. There are 414 pupils on roll from a range of socio-economic backgrounds, including small but increasing numbers of children on FSM/pupil premium and a few looked after children. There are children with a range of different needs in the school with around 10% of children on the SEND register, 5 with EHCPs and 4 more in process.
The School's Inclusive Ethos
Although this was an online assessment, it was very clear that the school is very welcoming with a warm, friendly atmosphere throughout. The environment inside the school, highlighted by the website, is bright and very positive with beautiful displays, reflecting the school's inclusive ethos in the corridors and classrooms. The outside areas are wonderful spaces for children to play and learn together with a large field, woodland/bush craft areas and a recently created cycle track from funds raised by the PTA. The strong, inspirational leadership of the head teacher, deputy head (who is also the IQM lead) and SLT sets the tone for the supportive, caring, inclusive framework with high expectations of all and they are rigorous in ensuring that the school's inclusive vision, 'Belong, Believe, Achieve' is implemented and thoroughly embedded in the life of the school. The SLT lead by positive, enthusiastic example and oversee all aspects of inclusion: staff, pupils and parents are genuinely listened to and respected with the result that everyone works hard as a team to achieve the best possible outcomes for children. The deputy head leads the school's excellent support for children with SEND and those on pupil premium or with additional needs and works very closely with parents and families. Children's wellbeing and mental health needs are also very well catered for in the school with staff specifically trained to work in this area.
A Very Strong Cohesive Team
Teaching and support staff work very well together as a very strong cohesive team to do their very best for all pupils. The curriculum is bespoke and provides a range of exciting learning opportunities for pupils. There are specialist teachers for sports, music and computing, which ensures these are real strengths of the school. Music was mentioned by staff, pupils, governors and parents as a highlight of the work of the school with pupils very keen to learn instruments and to appreciate classical music from a young age. Teachers spend a lot of time in planning thoroughly to meet their pupils' individual needs. Progress is rigorously monitored and pupil progress review meetings are effective in ensuring that action is taken to support any pupils who are underachieving or struggling in any way. As a result, interventions, which are mainly provided in class, are tailored to individual needs and are monitored very carefully and adjusted as appropriate. Lessons are planned in detail, ensuring they are interesting and challenging for everyone and there are many imaginative and exciting activities planned for pupils. Extracurricular activities are also varied and plentiful with a range of events, wow days, trips and visits planned for children. Staff are positive, energetic and are fully committed to the pupils and to the school. They speak very highly of inclusive practices in the school. They share the common, inclusive vision and they feel they have excellent support, training and resources to enable them to do their work, "We are all listened to and if we have any problems, we are never turned away. If we feel overwhelmed, we are made to feel that we can cope and you will be helped to sort out the problem". Staff are encouraged and enabled to develop their skills through a range of CPD opportunities and regular staff meetings and team meetings have a strong focus on teaching and learning and strategies to meet pupils' needs. Support staff, including TAs and HLTAs, play a crucial role in the school, providing much needed support for pupils in class, including through the provision of interventions.
"We feel valued – we can suggest things and they will trial them."
"We support each other. We are proud to be part of Burley Oaks School and we stay a long time and send our children here too. It's a huge part of our lives."
"I feel part of a family here and an important part of the team. I am really respected for what I do. I am trusted and I feel a sense of worth."
Staff stay at the school and their careers are supported through excellent CPD, with the result that many make excellent progress during their time here. One member of staff, who has been at the school for 10 years and started as a TA has been specifically trained as a counsellor and wellbeing health champion and is now an HLTA who leads on this work (with another colleague) and on family links. She also trains all members of staff via staff meetings so they are able to disseminate wellbeing throughout the school. Another member of staff started at the school as an NQT and is now a phase leader and yet another started as a TA and is now in her second year of teaching at the school.
Pupils Enjoy Learning
Pupils are very happy, self-confident, friendly and enthusiastic and behave very well around the school, in their lessons and in the playground. They speak very highly of their school and its staff, for whom they have great respect and they know that they are listened to and cared for. Pupils enjoy learning and they explain how the teachers encourage them and make learning fun. They are challenged and supported to do their very best. Their emotional and mental health needs are very well supported in the school with two highly trained members of staff. As a result, pupils are keen to receive counselling and wellbeing support and they all have access to this as well as to a specific six week wellbeing course led by the pastoral/wellbeing champion. There are opportunities for pupils to take on roles of responsibility in the school and to help in school, including via the school council. There are rewards for pupils to celebrate their many accomplishments, which they are very proud and pleased to receive. Comments made by pupils include,
"I like this school because the teachers always make the learning fun – we always do exciting activities, such as looking at sea life and turtles."
"No one is ever left out here. We are listened to and we can choose a musical instrument and suggest things like when the 'plastic brigade' suggested we make art from plastic litter."
"Lessons are always fun: we make things and design things – we're doing clay this afternoon. We write newspaper articles and even when it was remote learning they made it fun. It's much better now we are back because we can see our teachers properly and we can have access to more resources and can ask our partners for help."
"There are lots of kind people to make friends with and lots of kind teachers so you really feel at home."
"Every year you feel it's even better than last year", "If there's a new person, there's lots of friends to make you feel welcome."
"Everyone feels included. Everyone is so kind that people will want to be your friend."
Excellent Relationships with Parents
The school has fostered excellent relationships with parents and it finds many ways to communicate with them and to involve them in the life of the school. Parents speak very highly of the school and its staff. Parents/carers spoken to, including those whose children have additional needs, explained the thorough, caring and effective approach that the school takes towards meeting their children's needs. The school listens to its parents and is happy to see them getting involved in the life of the school as helpers. There is a strong PTA that organises events and fundraising activities, such as fairs, discos, a circus, a parent ball and quizzes and there is also a parent group, which enables parents to engage with each other and with staff. Parents volunteer to help in various ways at the school, which helps to build the strong community around the school. Parents were highly supported during lockdown in many ways, socially, practically and emotionally as well as being supported to help their children educationally. The school offers wellbeing and mental health support to parents via the pastoral/wellbeing champion, who also offers a course for parents, which they are now keen to attend. As a result, there is an open conversation between school and home and between parents and their children. The school also injected fun for families into lockdown through some of its online, whole school singing and lighthearted events. Parents feel that communication with the school is excellent: the head teacher, deputy and other staff are always available to speak with parents. Comments from parents included,
"I can't fault the school and can't speak highly enough of them."
"The school is very proactive – they reach out to us. We have a very open and natural relationship with the school. They provide a range of experiences for the children – to places of worship, to museums, to a Bradford school and there are a lot of outdoor experiences."
"The school was very supportive of my child's SEND and put everything in place for him, including a TA who gave him a lot of support."
"The school is amazing – they helped us, guided us and pointed us in the right direction for support."
"It's a phenomenal school with fantastic commitment from the teachers. They stretch the kids and get an amazing amount out of them. There are lots of out of school activities, trips out and many opportunities so that they carry on with those that they like most when they leave the school."
Excellent Links with the Local Community
The school has excellent links with the local community and with other local schools, including the main schools to which pupils transfer. The school is part of a cluster of schools, which enables the sharing of excellent practice across the group of schools. All staff, parents, governors and pupils spoken to were extremely positive about the school's work. There is a very genuine sense of team effort, of mutual support, of listening, discussing and of including everyone. The governing body is fully committed to the school's vision and they play a very positive, active and supportive role in the school. The chair of governors explained the strong ethos of inclusion in the school,
"They all go the extra mile and they are relentless to make sure all children are getting what they need."
The Overall Ethos of Inclusion
Exceptional features of this school include the overall ethos of inclusion and inspirational leadership of the head teacher and SLT; the wonderful curricular and extracurricular opportunities that are provided for children; the positive attitudes of children who are able to articulate their love of the school; the partnership with parents that helps build a supportive community; the excellent work of the deputy head/Inclusion Manager to support needy children and those with SEND; the open door policy, which ensures everyone feels valued and supported; the positive team-work of SLT, teaching and support staff to enable all children to develop self-confidence and achieve.
Find out more about the IQM Inclusive School Award
If your school is interested in obtaining the IQM Inclusive School Award or you wish to talk to a member of the IQM team please telephone:
028 7127 7857 (9.00 am to 5.00 pm)
or email: info@iqmaward.com for further details.
Want more information on the IQM Award? Click here to request your free IQM information pack