Bower Grove School, Maidstone in Kent, achieves the Inclusive School Award with Flagship School status.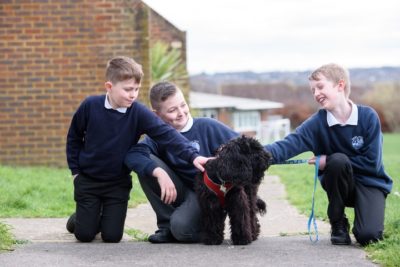 Context
Bower Grove Primary School is a specialist school that caters for pupils with SEMH. The biggest cohort of pupils have ASC with ADHD and comorbidity. There are many vulnerable pupils including some who have suffered significant abuse and display trauma affected cognitive disorder. Many have attachment disorder which presents similarly to autism. The majority of pupils have had an adverse childhood experience and most of the children will have experienced early life trauma. Others have been affected by Foetal Alcohol syndrome, which results in permanent impairment. There are lots of hidden disabilities and the children often do not present as disabled. The Head told me that most of the time the children are happy and get on with their learning but sometimes they can be biting and kicking. Staff are very skilled at intervening and preventing incidents before they happen.
The school population is very mobile, and most children do not start in Reception but arrive after they have become unmanageable in mainstream schools. There is an uneven gender split with 95% boys and 5% girls. A great deal of thought and effort is invested to ensure the girls are protected and have their needs met. The school is an all through school and runs from Reception right up Year 11. There is no sixth form and most go onto college or specialist provision. A small number get GCSEs, but a variety of qualifications are also offered. Currently there are 232 pupils on roll even though their actual roll number should be 214 – the demand for places is huge. There are 132 members of staff. In the primary section of the school each class has one teacher and three teaching assistants or other support staff. In secondary there is one teacher and two TAs or support staff.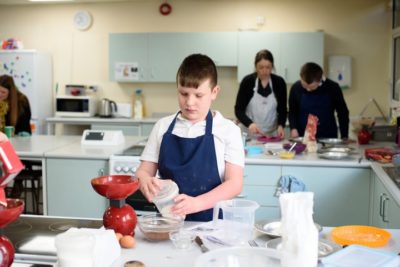 Developing Effective Coping Strategies
The school ethos is all about a culture of behaviour for learning. The Headteacher told me that the pupils come to the school with a set of strategies that they use to deal with anger and disagreement. These strategies may ensure their needs get met but are not going to help them when they move on and grow older. They learn a different way of handling conflict and new positive strategies at school and hopefully will apply these in any situation they find themselves in. There are lots of therapeutic interventions provided and the school now employs a full-time Sensory Lead. Most of the issues and concerns are around low-level needs and are easier to find ways to intervene. The Head told me that 'inclusion is not complicated' and just takes patience and a menu of different strategies that you are willing to try. The school works closely with parents and help them to use the sensory programmes put in place for their children at home. The Sensory Lead works with other staff to help them make good use of the strategies in classrooms. There is a therapist who does massage and another who does drama therapy and another who does speech and language interventions. There are three Pupil Mentors and one who focuses specifically on behaviour for learning. One pupil mentor acts as a family link and will continue to work with families during the summer holidays. Pre-Covid there was a parent support group on a Friday with lots of speakers.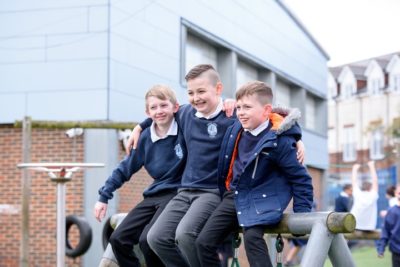 Teaching During Lockdown
In the first Covid lockdown staff worked on a rota but this time around all learning was delivered live on Teams. Support staff were running the provision in school. Online lessons went down well with pupils and teachers really challenged themselves to teach lessons in a different way using fairly new technology. The Senior Leadership Team maintained their observation schedule, to get an overview and feel for what was happening and were not using the observations to make judgments. There was a mixture of lesson observations and drop-ins that sometimes one of the pupils attended to see what it was like from their perspective. Importantly staff supported each other, taught each other, and learned from each other during that time. There was a great sense of collegiality and collaboration as they worked out how to use the technology and to develop a new pedagogy. They had to ask themselves how they manage behaviour online. To answer this, they rewrote the behaviour policy (for remote learning) and made good use of breakout rooms. There were clear rules which the pupils really valued and the fact that breakout rooms were used to speak to pupils individually (for misbehaviour) instead of a public telling off was appreciated. The chat function was amazing in terms of encouraging pupils to ask and answer questions. Staff wrote up a very detailed report of their own learning that is shared and are now deciding what they will keep and use now they are back in school. The Headteacher told me staff have coped very well throughout the year and during lockdown. Some had to isolate as they were clinically vulnerable. Every member of staff received a weekly wellbeing phone call including communication from Governors. The Senior Leadership Team provided a range of small additional extras/treats to help motivate and encourage staff every week. Some were poorly during this time, but they bounced back and are all back in school now.
Appropriate and Effective Intervention
The Sensory Lead and the Interventions Lead work very closely together, and there is very clear system for making referrals for pupils in need of additional support. Class teams can make direct referrals about pupils they have concerns about. The next push is to develop ways that pupils can refer themselves. The school can offer a range of interventions including various therapies and mentoring provided by trained professional staff. Mentoring is provided in-house and some from outside agencies. Much of the focus is on behaviour and the Sleuth system is used to track, record, and analyse data. The team analyse behaviour, at particular times, on days and dates, and identify trends. A spike may indicate the need for a referral for intervention. The pupils are involved in the process alongside a key adult. They go through all the interventions available and think through what intervention they might choose. Sometimes they choose an adult providing the intervention they know, and it is important that those relationships are recognised and valued. They start with a self-assessment questionnaire, which gives a certain amount of information and more will be gathered once the intervention starts. Interventions are time allocated but lots of time needs to be given to building a relationship and it often takes six weeks before they open up so its normally a thirty-two-week programme. Occasionally it's less but there is a flexible approach taken. The Intervention Lead keeps an overview. The team is trying to find effective ways of measuring the effectiveness of each intervention. Improvement is not always reflected on Sleuth. Careful monitoring and quality assurance processes are in place and regular reports are provided for the Senior Team who take it to Governors. As all pupils have an EHCP it is important to plot and monitor all inputs.
Enabling Children
The link between sensory and wellbeing is strong and is confirmed by recent research. A referral may be identifying when a pupil is rocking, and the Sensory Lead says she would try to find if she could find another sense that would relax them. Getting them to think about what else works for them. If they are sensitive to light, they try a few quick fixes. She is working with one boy at the moment who has taken four terms to think of something else that can help him. At the sensory session they discuss the rules particularly the issue of confidentiality and if they normally hit out or are violent when they are angry or not themselves. The Interventions and Sensory Leads provide training for staff to make sure they know why they are making a referral and they observe the children in the classroom and see what is occurring. Feedback from staff about the process has been very positive.
Continuous Professional Development
The Human Resources Officer keeps the Central Register, which is a big job considering the large number of staff. She explained how CPD runs in the school. The school was well prepared for the most recent lockdown and had done training on Teams and on delivering online lessons, so they were ready to go when it was announced. CPD has evolved differently this year because of the Covid 19 pandemic. A staff work pack, with a host of online courses, was provided which was great when people were at home and great for staff career development. Many of these courses were completed by most staff (both teachers and support staff) and all their certificates are kept on file and an overview of what has been done is recorded on HR files. The aim is to build on this foundation. The CPD training budget is tracked this way and information is used to assure money has been spent wisely. Many of the Senior Staff have completed (or are now completing) National Leadership Training courses. Appraisal and Performance Management processes continued all though the year and clear objectives were set and achieved despite the disruption of the last year. The training of the Kitchen Manager and staff at the premises was also provided as well as training for Middle Leaders.
Creative Provision
The Vocational Lead (Lead Practitioner) told me about the PHSE and Careers Curriculum and programme. In September they launched the ASPIRE Curriculum for Year 9 pupils which is designed to broaden the experience of all pupils and encourage those who are reluctant to try something new. Forest School activities have been set up on Thursday afternoons organised by an agency called Wild Times. Two new vocational options have been introduced Public Services and Creative and Media. These involve various professionals coming into school to speak to pupils about their jobs in these areas. I was told that the courses are not run exclusively by the Vocational Lead but by staff who have (so far) hidden talents and expertise. The vocational programme has had to be adapted this year due to Covid 19 restrictions but next year the aim will be to get pupils out on visits and have different experiences. The school works on a 'slow growth' model and they evaluate what has happened every year before they move on to the next thing.
Duke of Edinburgh Award
They will set up the Duke of Edinburgh's Award scheme to accredit many of the activities and they already have a good team of staff to run this in the school. The spring programme for (creative and media) will include film and music production. In summer home maintenance and repairs, including changing a tyre, up-cycling and animal care are just some of the practical activities that are on offer. It means that Year 9 now have more freedom of choice in the curriculum.
After Bower Grove
I asked about where pupils go onto when they leave the school and if they eventually go on to find work or apprenticeships. The school Transition Worker continues to work with pupils for two years to see where they are going and tracks their progress. Also, pupils come back to visit to tell them what they are doing. Most pupils go on to college and other courses so are in education for quite a long time and there is no way (as yet) to track where they end up down the line. Work experience is provided in Year 10 and 11 (pre-Covid) and they find a place for all the pupils. They work with children to find out what they like or what they want to experience.
Find out more about the IQM Inclusive School Award
If your school is interested in obtaining the IQM Inclusive School Award or you wish to talk to a member of the IQM team please telephone:
028 7127 7857 (9.00 am to 5.00 pm)

or email: info@iqmaward.com for further details.
Want more information on the IQM Award? Click here to request your free IQM information pack