Bedford Academy has been assessed and has achieved Centre of Excellence status.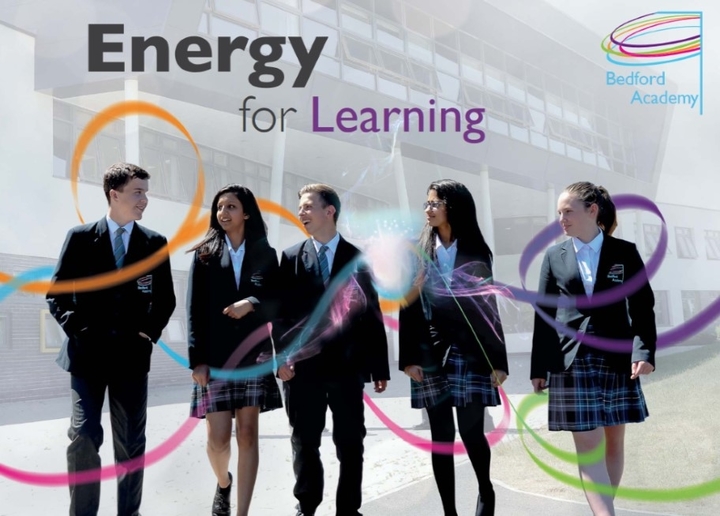 Background to the School
Bedford Academy opened in September 2010 and is part of the HEART Academies Trust. The Academy moved to an impressive new building in November 2013. In September 2014, the Academy extended its year intake from Years 9-13 to Years 7-13. The Academy is organised into five Learning Villages based upon the following combination of subjects: Arts and Sport, Communications, Humanities, Maths and Business, Science and Technology. Each Learning Village is supported by a member of the Senior Leadership Team, a Learning Village Leader and a team of tutors. Each student is assigned to a Learning Village which is also their Pastoral Base from year 8-11. Year 7 students are together for their first year in the Humanities Village. Year 8-11 are in vertical tutor groups.
Context
64% of students come from a wide range of ethnic, cultural and faith backgrounds with 43 languages spoken by different groups of students. 47% of these are eligible for Pupil Premium and 1.25% of these are on the SEN register with EHCPs.
Learning Opportunities
The Academy provide a range of subjects and learning opportunities for all students. In year 7-8 English and Maths have more lesson time within the curriculum in order to develop essential key skills in each subject area. Interventions are provided for any student who needs additional support.
Course Options
From year 9-11, students begin a year option course with two options being chosen each year along with the core subjects of English, Maths, Science, PE and PCD. This enables students to focus on subjects with more lesson time and completing the options within a year.
Inclusive Practice
The Academy is a very good example of inclusive practice. This is evident in all areas of its work. The SLT and the Governing Body and all the staff work very hard to ensure everyone has high expectations to achieve the best possible outcomes for the students in terms of not only their academic ability but also in terms of their personal development.
Inclusion is a Crucial Element
Inclusion is a crucial element of all the school structure. The new appointment of an Assistant Principal for Inclusion has successfully brought together key areas of
Inclusion within the school: Access (which includes SEN, EAL, Learning Support, Safeguarding, Well-being and Behaviour Support), Nurture, Attendance and Engagement. This structure contributes to the overall high standard of achievement of the students on both an academic and personal level in developing positive characteristics.
Students feel Safe and Secure
The excellent, calm and friendly atmosphere permeates throughout the Academy. During the tour, the students were very polite and it was apparent that they felt safe and secure. There was a strong feeling amongst the students to show respect for the environment and for the whole community. There was a fire drill during Day One and the students' behaviour and the whole procedure was exemplary.
The Academy promotes inclusion with well thought out and evidence-based interventions. This is apparent in all aspects of school life.
Students were Full of Praise for the Staff
The students I met ranged from Year 7-13. They were all full of praise for the staff and said that the teaching was excellent as well as the care of the students. One student stated that the anti-bullying policy meant that bullying was always dealt with immediately and effectively. All the other students agreed. It was clear that each student felt included and that there was always someone to talk to if they had any concerns.
An Ethos of Nurturing
Ofsted recognised the significant ethos of nurturing every student to develop and make progress. This is reflected in the report where it states 'Disadvantaged students make good progress from their starting points. Gaps in attainment between these students and others are narrowing in all years and have closed in some.' In 2016, 54% of students achieved 5 A-C grades including English and Maths in comparison with 34% in 2011. This is a significant improvement with a progress 8 score of 0.41 for 2016 which is above the national average.
National Recognition
From Year 7, the Academy prepares the students along suitable career paths. This support has won national recognition. By the very nature of the tight structure for Inclusion, students develop academically, socially and emotionally to become mature, resilient, tolerant and responsible young adults.
High Quality of Provision
The Self-Evaluation Report, the warm welcome and timetabling on the Assessment days reflects the high quality of provision that exists in the school. Bedford Academy meets the needs of its students and is an outstanding example of commitment to, and implementation of, inclusive practice. It is a safe and caring environment for students where high expectations have a huge impact on their attainment and personal development, despite that, a high proportion of students are facing challenging circumstances away from the Academy.
Find out more about the IQM Inclusive School Award
If your school is interested in obtaining the IQM Inclusive School Award or you wish to talk to a member of the IQM team please telephone:
028 7127 7857 (9.00 am to 5.00 pm)

or email: info@inclusionmark.co.uk for further details.
Want more information on the IQM Award? Click here to request your free IQM information pack.