Beacon Primary School, Willenhall in the West Midlands, has achieved Centre of Excellence status for the first time.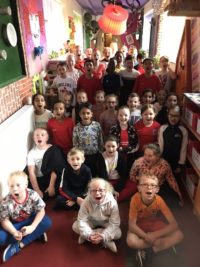 Context
Beacon Primary School is a larger than average primary school for pupils from 2 to 11 based in a deprived inner-city area of Walsall. Numbers on roll have grown significantly since the arrival of the new Headteacher in 2014 and the school is now being asked by the Local Authority to consider expanding to 3 form entry. The school is extremely popular within the local area and has a waiting list. The school community is stable with limited mobility. Figures for SEND are above national average and gradually increasing. FSM funding is above the national average at 48%.
'Magical Environment'
It is a truly 'magical' school where the beautifully creative corridors transport you into the realms of fantasy and imagination – from 'Beacon Street' through forest and jungle, into a French village, and entry into settings from literature including Narnia and 'Hogwarts' to name just a few.
Assessment Day
The self-assessment was compiled to a high standard and the school ensured I spoke to the right staff, who spoke confidently and passionately about each element alongside representatives from parents, governors, external providers, and, of course, the pupils.
Inclusion at Heart
The school prides itself on having inclusion at the heart of everything it does. Expectations of pupils and staff are clear, and the school values:
'Be the best, Everyone Achieves, Ambitious for all, Caring, creative and challenging, Opportunity for all and Nurturing,'
are clearly evident across the school, visible in public areas and classrooms and clearly understood and followed by all. All staff treat pupils as individuals and clearly articulate the importance of managing pupils according to their particular needs, identifying how to enable children with particular needs to access and succeed in school. A focus on identifying and managing children's anxieties is clearly evident enabling ASD and ADHD pupils to be managed highly effectively. Despite these children having complex issues, individual behaviour in class was exemplary during the assessment visit.
Staff Make a Positive Difference
What is highly apparent is the dedication and drive of the staff to make a positive difference. The staff I met, at all levels, were committed and passionate about meeting the needs of every child, enabling equal access, without barriers, to a meaningful and exciting education. The school has gained a reputation within the local community as being fully inclusive, going that extra mile to be able to support children who were unable to manage in other settings.
School is Fully Accessible and Inspiring
The environment in school is fully accessible to all pupils through the inclusion of lifts and ramps and pupils and staff are able to access all areas regardless of any physical disability.
Outdoor Plans
The school environment is engaging and inspiring. Classroom expectations are consistent across the school ensuring support for learning is mirrored across year groups and communal areas are inspiring. The Headteacher is now looking to transform the outdoor areas to enable the magic from inside to extend out and provide greater opportunities for children to be active or quiet and reflective.
Find out more about the IQM Inclusive School Award
If your school is interested in obtaining the IQM Inclusive School Award or you wish to talk to a member of the IQM team please telephone:
028 7127 7857 (9.00 am to 5.00 pm)

or email: info@iqmaward.com for further details.
Want more information on the IQM Award? Click here to request your free IQM information pack