Barnton Community Nursery and Primary School in Cheshire has become a Flagship School.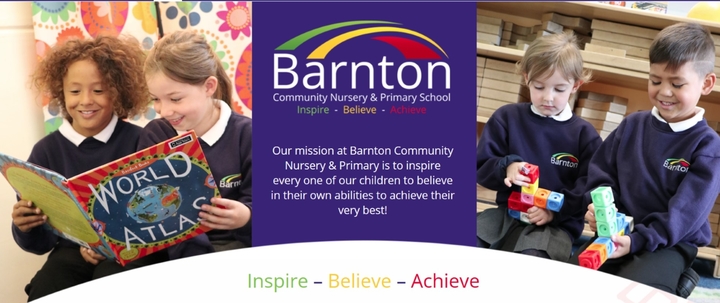 Context
Barnton Community Nursery and Primary School is a larger than average primary school serving a semi-rural location near Northwich, Cheshire, with 475 pupils on roll. BCNPS are the founding academy within the Weaver Trust which welcomes children of all ages and abilities. The school provides a great platform for learning with multiple extra-curricular activities and lots of variety within lessons. They have their own onsite petting zoo where the pupils are involved with the animals on a daily basis, cleaning, feeding and petting all of the animals. The school has recently purchased a bus that will be converted to a mobile library and cafe for children and parents to use at any time of the week, a fantastic initiative and opportunity.
The Weaver Trust
The Weaver Trust is a multi-academy trust formed in April 2017 specialising in the Primary sector, with BCNPS as the lead school and Grange CP School, although there are plans to add schools in the future. The Trust aims to build a thriving community of converter and sponsored primary academies, which succeed on behalf of its pupils and communities; while also ensuring that within the family of autonomous schools that they are uncompromising in the search for excellence; that they are uncompromising in the drive and commitment to sharing best practice, with their overarching aim being outstanding personal success. The Trust's vision is to, 'Engage pupils in learning, through motivational teaching and irresistible opportunities. Empower children with a tangible sense of purpose and ambition for better life chances. Achieve excellent outcomes for pupils, staff and their communities'.
Highly Inclusive Environment
The school continues its superb commitment to providing a highly inclusive teaching and learning environment for all pupils and staff. This is reinforced by their vision, 'A school of opportunity: Inspire, Believe, Achieve,' that are underpinned by their values of Innovative, Caring and Responsible and their mission, 'to inspire every one of our children to believe in their own abilities to achieve their very best!' absolutely superbly inclusive statements that every member of staff involved with the school believes in and works hard on a daily basis with the pupils to ensure happens. This is truly a school where every pupil really does matter and is made to feel special. This is a fact I can attest to from the evidence of the review and from discussions with stakeholders.
Providing the Highest Possible Standards
The school and staff are committed to providing the very highest standard of teaching and learning experiences which not only develop the pupils' knowledge and skills, but develops their confidence to become innovative, independent learners, who take responsibility for their own learning and actions. The superbly caring, inclusive environment that BCNPS provide ensures each pupil receives the very best education possible, delivered by dedicated staff. It was very clear to see throughout the review the belief that every pupil is entitled to experience as many opportunities as possible in order to broaden life experience, develop confidence and self-esteem; allowing each pupil to find what is unique about them and to capitalise upon it, whilst easing through areas of challenge. In terms of inclusion, BCNPS is an outstanding school in every sense. It's clear that superb care, nurture and support, the foundation stones of inclusion, are at the heart of everything that happens on a daily basis at the school seen in all interactions between staff and pupils; between pupils and between staff; from discussions with all stakeholders and from evidence provided. Everyone involved with BCNPS including pupils and parents pull together to realise the school's vision and understand that this is a superbly inclusive place to come to work and learn. This is a school that is clearly at the heart of its community where inclusion is a natural part of the everyday occurrence, where pupils are encouraged to reach their full potential, where everyone involved is committed to the inclusion of all, whatever it takes. It is a school that is constantly looking at ways to develop for the benefit of the pupils and families that it serves.
A Vibrant Learning Environment
There is a buzz about the school, with a vibrancy to the learning environment and a very clear focus on helping pupils to develop the skills they need to be active participants in their community and in society. Everyone I met was helpful and spoke very positively about their experiences at the school where a focus on improving the attainment and wider outcomes for all students and not just promoting the learning of the lowest or highest achievers is paramount. As with the previous reviews it is clear to see that the school`s actions to care for pupils in my judgement is superb. Everything the school does, is for the benefit of their pupils. The staff are extremely positive about the school, and staff and pupils clearly show their love of the school and of learning. All staff employed or who volunteer naturally go the extra mile and beyond without thought, to ensure that the individuals and groups' needs are met. They demonstrate a superb quality of support, care and nurture that enhances the provision throughout all areas of the school. Staff are justifiably proud of what they achieve both professionally and in terms of support for the pupils and themselves. They work exceptionally hard to ensure that all needs are met and it is very clear to see walking around the school that there is mutual respect and care that is evident across the staff body; and a fantastic rapport between the staff, the pupils in the school and between the staff at all levels. A mutual regard and respect that shines through.
Relentless Determination for All to Succeed
Staff led by the Headteacher and her senior team have a clear vision for the school and their pupils and a relentless determination and drive for all to succeed. This came across very clearly in meetings and discussions with staff at all levels and with the pupils I met and talked to and is a very real strength of this outstanding and superbly inclusive school. The behaviour of pupils seen during this review was exemplary as I would expect from such an inclusive and well-ordered school. Everyone involved with the school should be immensely proud of the way they conduct themselves. Pupils through a variety of different forums have a strong pupil voice. Parents are well informed of their child's progress and what they can do to support the school and their development. This partnership is a very clear key strength of the school, parents and governors are actively involved in shaping and developing the vision of the school and communicating extremely effectively through its website, letters, texts and social media.
Highly Positive Parents
During the review process I was able to talk to a variety of staff and parents who spoke to me openly and frankly about their roles in the school and what was offered to support pupils and their families. The parents I spoke to were all highly positive about the way in which the school had not only supported their children but themselves as parents. They highlighted the fact that in their opinion and in the opinion of a lot of other parents the school was totally and naturally a very inclusive setting. They couldn't fault the school and said that everyone involved in the school was highly empathetic and understood the needs of the children they taught and supported. What was clear was that as they articulated
'There are no barriers in the school, everyone is included and looked after to the best of their ability'
a very powerful statement demonstrating the school's inclusivity. In fact, during the review there were a large number of parents in school helping to get things ready for the school Halloween Disco that night as well as volunteers who were listening to pupils read.
International Links
I spoke to the school's International Schools lead who had previously attended an IQM Cluster meeting and spoken about how the school's highly effective global links works and how to get started. The school is working towards full accreditation of the International Schools Award, currently holding the Intermediate level. The lead was invited to speak at The North West Global Conference in Warrington at The International Business Centre that afternoon about 'Sustaining relationships with Partner Schools', a fantastic accolade for the member of staff but also an indication of the high regard BCNPS is held in for its work on Internationalism. The school has close links with schools in South Africa where the project is looking at high quality teaching with a focus on how to support disadvantaged children; is involved in developing links with Denmark where 8 staff travelled to look at outdoor learning (forest school) and came back with a re-ignited passion and is hosting a delegate of Chinese educationalists in late November where they will visit BCNPS and the other partner schools involved in the project. The school lead was nominated to lead (write) the application for funding for the cluster of 16 schools, 8 in the North West and 8 in South Africa. This is a fantastic opportunity for the staff and pupils in the school and a fantastic accolade for the member of staff leading from the front. Clearly as they state, 'A school of opportunity'. They should be immensely proud of the work they do in this respect.
Articulate and Mature School Council
I was able to speak to the School Council who were articulate, mature and were clear that everyone is given a voice in the school and multiple opportunities to participate in a wide variety of activities and community work such as KS2 gardening projects; supporting the Soup Kitchen with produce from the school allotment; a local food bank that is advertised to parents and families and every Thursday food is collected from Tesco's and then distributed to needy families. The pupils felt that they were supported extremely well by the staff in the school who they said were friendly and knew them very well. They were grateful for the multitude of opportunities they had through the fantastic outdoor learning environment, allotment, the animals they had access to and were able to act as Animal Monitors, peer mentors – helping other children including the Oasis area inside the school that provides a nurturing supportive environment for pupils who need the support, as well as reading club and movie club ensuring in their view that no one was left out. It was clear from the pupils that there is a very strong pupil voice in the school and high levels of support. This was also underlined when I spoke to a member of staff who works in the school as a midday assistant and who runs the Fun Club after school as a play leader from 3.15 – 6.00 pm. It was clear to see that she was passionate about her role in the school and about the pupils and the school.
The Importance of Physical Activity
Physical activity is seen as extremely important at BCNPS and is given a high priority across the board and this became clearer when I had the opportunity to talk to the school's Sport Lead who was very passionate about his role and ensuring that all pupils lead an active life in school and beyond and who ensures that all pupils are given a varied and suitable PE curriculum, working closely with Vale Royal Sports and ensuring that while the pupils participate in competitive sports as appropriate they are also involved in a wide variety of sports through celebratory festivals for years 1 to year 6; including programmes that are SEND specific. The school provide opportunities for activities such as Boccia, New Age Curling, Multi Skills as well as more traditional school sports. The sports lead is keen that both male and female staff in the school are seen as positive role models and are trained to support sports activities, competitions and festivals across the school. There is a full programme of swimming for years 2 – 6 and a series of catch up sessions at the end of the year for those swimmers who don't make the expected progress with the expectation that all pupils can swim by the time they leave the school. The school runs clubs for pupils at lunchtime who are taxied into school and who cannot stay after school run by two members of staff who have been trained as 'Change for Life Champions' with a multitude of activities and challenges offered. The school also employs an apprentice who came on work experience from Mid Cheshire College last year and is now employed from lunchtime providing and supporting pupils in adventurous play and is developing the role supporting the delivery of PE and who leads activities after school as part of what is offered in the Fun Club provision building relationships with some of the school's most vulnerable pupils.
A New Curriculum Model
In order to ensure that the school enacts its core purpose, 'To develop confident happy, articulate learners, who are well prepared to make a positive contribution to society and are best prepared for the next stage in education increasing social mobility', they have developed a new curriculum model based on 'Quality texts'. After consultation where the focus was on looking at the actual knowledge pupils needed and the skills they needed to develop a curriculum model was mapped out and then developed based on the following ideals that the curriculum will: underpin the school mission, vision and values; will develop the whole person – knowledge, skills and attitudes; offer purposeful opportunities and experiences; demand participation and contribution; has a local, national and international dimension; involves out of classroom learning environments; makes meaningful links and addresses issues of our time; looks to the future; is flexible and responsive to need and is progressive in knowledge and skills. Parents are given an understanding of what is to be studied through a half termly 'Knowledge Organiser' that is available on the school's website and will also be available on the school App that will be released soon. Each half term's work is based around a quality text that has been carefully chosen to meet the needs of each age group and class, with the principles underpinning teaching and learning developed in all subjects that will suit the needs of all learners in the school. A well thought out innovative curriculum model that, in my opinion, is extremely inclusive and will meet the needs of the pupils in the school in an exciting and vibrant manner. It will be interesting to discuss how the model has evolved and to look at how its impact has been measured at the next review.
Find out more about the IQM Inclusive School Award
If your school is interested in obtaining the IQM Inclusive School Award or you wish to talk to a member of the IQM team please telephone:
028 7127 7857 (9.00 am to 5.00 pm)
or email: info@iqmaward.com for further details.
Want more information on the IQM Award? Click here to request your free IQM information pack.