Bannockburn Primary School in Greenwich achieves Flagship status.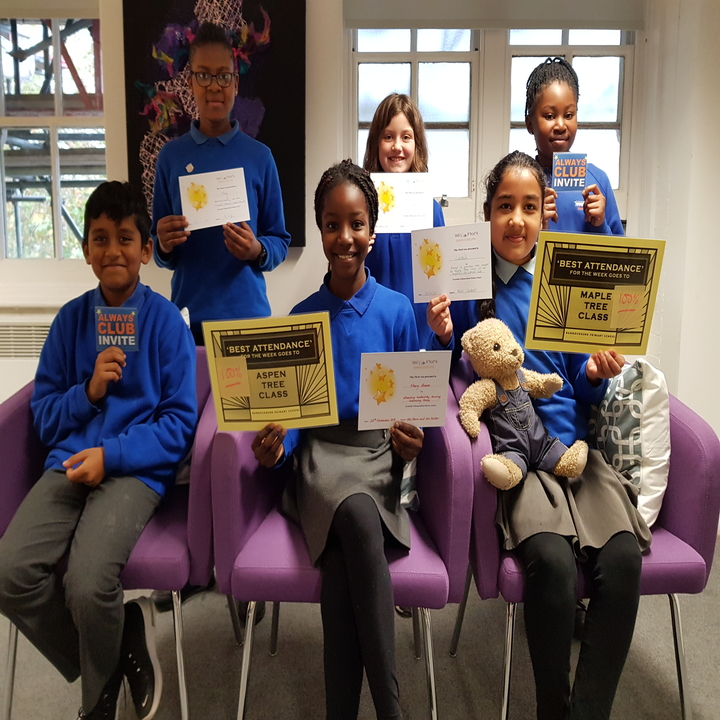 Background
Bannockburn is a larger than average, split-site primary school in south-east London. It has been an IQM Centre of Excellence for three years and is seeking to gain Flagship status. During my review I followed a full timetable of activities; firstly, speaking to the Headteacher, the Inclusion leader and one of the Deputies who is the IQM lead; I then met with parents, children on both sites, various staff, governors and representatives from external agencies. I was shown many classrooms and had lunch with the children. From my discussions with the Headteacher I understood immediately that an inclusive ethos is integral to everything that happens here. It means,
'every child is acknowledged, we focus on what happens to the children when they leave here'.
They are aware that after the children go onto their secondary schools, aspirations may deteriorate. The team foster good links with local secondary schools and try to keep in touch with their previous learners many of whom return on Wednesday afternoons when their own schools are closed.
Staff are Committed to Inclusion
There is low staff turnover here as all staff are committed to inclusion and feel valued. There is no sense of hierarchy. All staff are trained in mental health and safeguarding. Trainee teachers and apprentices usually want to stay and some who have left often wish to return.
Children are Engaged in their Learning
Everywhere I went I was aware of children who were engaged in their learning. The pupils are happy, confident and feel safe. Rachel, the Headteacher, leads by example. She has the children's best interests at the heart of all decisions. There are many examples of staff going the 'extra mile'.
Meeting the Individual Needs of Every Child
Several children have been welcomed to Bannockburn on managed moves. The school has an excellent reputation for ensuring the individual needs of every child will be examined and appropriate support will be sought. Parents choose this school because of its inclusive reputation and not of its results.
Rated Outstanding by Ofsted
However, OfSTED rated Bannockburn as outstanding in January 2014 and its SATs results have continued to improve since. Parents could not speak highly enough about the way they have been treated. Parents of children with SEN are consulted before, during and after any intervention. They know that communications at Bannockburn are very good and crucially important if progress is going to be good.
The SDP is a Working Document
The School Development Plan is reviewed every month as it is a working document. The growing number of children with ASD is an issue. All staff have received attachment training and the mental wellbeing of the disadvantaged and vulnerable children is being addressed using a variety of methods. The team has worked with Greenwich University inviting a trainee educational psychologist to support the children emotionally to help improve their mental wellbeing. Several children are now learning to take control of their emotions using 'zones of regulation'. As one area of concern is addressed others become more urgent i.e. there is now a focus on children in the middle. Staff want all children to leave with memorable moments and to receive 'best experiences'.
Supporting the Inclusive Ethos
All staff, including the premises and office teams, come to INSET and everybody understands and supports the inclusive ethos that make up the unique character of Bannockburn. The Headteacher has instilled a culture of continual improvement. All teachers are in 'triages'. They observe each other and discuss good practice. Some film themselves and use this reflection to ensure they are offering the best. There have been no fixed term exclusions for over three years.
Attractive and Calm Classrooms
The children work in attractive and calm classrooms. The corridors have many examples of good work and display the values that the school holds dear. The children move around the building quietly and show respect to each other, staff and visitors. KS1 children said that they like this school because,
'the teachers support us if we get stuck'
and KS2 children said there are,
'high expectations for learning'.
They know their views are represented by the Junior Leadership Team and that staff will investigate an issue if there is a problem. They recognise this is a good learning environment where they are encouraged to do their best. Children understand that working hard and receiving a good education will help them later in life.
Working as a Team
Any member of staff can log a concern. Once they have been raised, staff work closely alongside each other and with many outside agencies to ensure their needs are addressed. The school runs many interventions and continually seeks new ways to support certain children. Review is uppermost in their minds as staff are conscious that children need to swiftly gain independence; they do not want children to become too dependent on their staff.
Governors are Very Supportive
The governors strongly support the work of the school and are deeply proud of its inclusive character. They are well trained and ensure they hold the Headteacher to account. Most of the governors come into school regularly and often, where they are met by happy children and respectful staff. I met with the school nurse and the Assistant Educational Psychologist who both said there are many needy children here whose needs are being met by well trained and supportive staff.
Find out more about the IQM Inclusive School Award
If your school is interested in obtaining the IQM Inclusive School Award or you wish to talk to a member of the IQM team please telephone:
028 7127 7857 (9.00 am to 5.00 pm)
or email: info@iqmaward.com for further details.
Want more information on the IQM Award? Click here to request your free IQM information pack.