Audley Primary School in Caterham achieves the Inclusive School Award for the fourth time.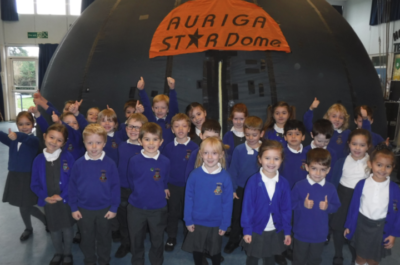 Context
Everyone that I spoke to at Audley Primary School confirmed my hypothesis, generated from the paperwork and from visiting the school website, that Audley takes enormous pride in their children and their achievements, and in their own development as a school. They strive to achieve excellence in everything they do, and this is echoed in their motto:  A Journey to Excellence.
Stakeholder Pride
From the conversations I had with all the different stakeholders, they all sang with the same voice and extoled the same message – they are clearly proud of Audley and respect what Audley stands for and provides for its children.
Driving Improvement
There is a clear nurturing and caring ethos that was described in the various anecdotes related in the conversations with me. But that is not all, there is also a drive to keep improving, to keep doing more, offering more to their children, and ensuring that everyone's needs are met, and met well.
Equipping Pupils to Succeed
All staff demonstrate a dedication and commitment to providing the best possible learning experiences for all their children. The school does not stand still, does not rest on its laurels, but continues to innovate and develop that offer. There is clearly challenge and innovation in the teaching at Audley, and both children and staff are reflective learners who are all try to do their best.  The leadership qualities of the SLT (Senior Leadership Team) have clearly played a significant role in creating such a reflective and continually developing school, and they deserve recognition for that.
Strong Leadership Team
There is a communal involvement and engagement from all of stakeholders that should be recognised and commended, and it is something that plainly everyone is responsible for – certainly, it is about the strong leadership provided by the Headteacher and Senior Leadership Team, but it is also about how everyone behaves that shows the vision and the inclusive nature of the school, and absolutely nobody I spoke to failed to demonstrate that fully.
Dynamic and Challenging
It was clear from all aspects of the review how hard everyone at Audley works to create such a welcoming, inclusive, but still dynamic and challenging learning environment. The Headteacher has built a strong team to deliver her vision, all of whom share and deliver that vision too – she explained it as,
"My staff are my toolkit to see my vision come to life."
The staff team all have different skills and levels of expertise to bring to their roles and to share – it feels like a very collaborative team effort.
Strong Parental Commitment to Children's Success
It was wonderful to be able to 'meet' with a wide range of groups who had distinct roles within the school and therefore different perspectives to relate. The group of parents that I spoke to had nothing but praise for the inclusive environment that the school offers but also more specifically for what the school had done to support them personally. They willingly shared their stories because they felt valued by the school and felt that they had a role to play in its development.
'A Journey to Excellence'
Everyone involved with Audley and the journey they are on is to be congratulated; they should be rightly proud of themselves that they have made a real difference in the lives of the children and parents at this school. It is a credit to them that the atmosphere of pride, inclusion, support, collegiality, and enjoyment managed to be transmitted even via the medium of Microsoft Teams – thank you for a well organised, informative, and ultimately inspiring 'visit.'
Find out more about the IQM Inclusive School Award
If your school is interested in obtaining the IQM Inclusive School Award or you wish to talk to a member of the IQM team please telephone:
028 7127 7857 (9.00 am to 5.00 pm)

or email: info@iqmaward.com for further details.
Want more information on the IQM Award? Click here to request your free IQM information pack