North Hykeham All Saints COE Primary School, Lincoln in Lincolnshire, achieves the Inclusion Quality Mark's Inclusive School Award with Centre of Excellence status for the second time.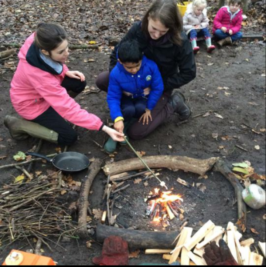 Context
It was wonderful to hear of the school's success with their IQM targets for 2020-2021 despite the COVID Pandemic. The well planned 'virtual day' highlighted the continued efforts of the school team to be Inclusive in its approach and to move forward, in providing the best for the children in their care. Unfortunately, a face-to-face visit to the school could not take place due to 'lockdown' issues associated with COVID-19. Nevertheless, the review was able to go ahead as we agreed that 'Teams' meetings and telephone calls would be held. It was extremely pleasing to see how the team valued all families regularly staying connected with them during the current COVID 19 situation.
Excellent Provision During COVID
The school has done particularly well to enable children to progress and learn during the pandemic over the last year and a half. It is recognised that this has had an impact on some of the priorities of the school. They have, quite rightly, focused on mental health and well-being and on improving reading with specific attention to fluency. It is quite remarkable how much the school has achieved during this time. They have adapted their teaching styles and techniques and strategies to teach children when they have not been in school. There has been use of Google classrooms, to share lessons remotely. The team has been creative in the approaches that they have taken. When it has not been possible for children to access online learning the team made available paper copies of work for children to do and this provision was accessed by a number of children. Families and children of key workers were accommodated within school as it has remained open for these groups.
Inclusion-Sense of Family
Children talk positively about the sense of 'family' engendered at the school, which is a clear strength. This is a sentiment echoed by staff members and fostered by the Leadership Team. During the IQM review, inclusion was seen as extremely important. The needs of SEND children are clearly recognised, all the children have access to a nurturing environment. Children have points of access to support staff and SEND staff throughout the day, to ensure that emotional needs are met and that any difficulties are supported that may arise during the day. Appropriate interventions are in place to address needs.
From my discussions with the team, everyone ensured that they were responsive to and supported specific needs. They are passionate about their work, keen to support and engage children in meaningful ways, and are constantly thinking about how they can improve facilities and their offer to children.
This reinforces the whole notion of inclusion. The team works extremely closely with families to ensure positive attendance and engagement in school. The team want the best for all children and have well-coordinated interventions in place. Care has been taken to consider the mental health and well-being of staff and children. Some well-considered appointments in place including ELSA and MHFA for children and adults.
The Learning Environment
The video on the school website helps parents to understand what it means to be part of the All-Saints' family. A well-presented learning environment is offered to the children, the hall has the school's values shared on the walls and it was especially pleasing to see the environment well cared for by children and staff. The library is well developed and exciting for all. Children make use of the 'green screen' set up within the school, to share stories and enjoy taking on different roles. The school have introduced a system whereby the children are rewarded with 'reading tokens,' those tokens can then be 'spent' in the school shop, an exciting incentive for the children and one that has seen marvellous results. Excellent opportunities exist for outdoor learning within the school grounds, and it was lovely to see pond dipping opportunities experienced in the Forest School. There is unmistakable evidence of small groups, and large groups working throughout the school. There are lots of opportunities for children to grow their own plants and collect eggs from the school chickens.
Learner Attitudes
Mutual respect is at the heart of the school. All members of the school community treat each other with respect. Positive learner attitudes are fostered in all aspects of school life through target setting and trusting relationships. The children have positive attitudes to learning and are able to articulate clearly what they find positive about the school and the support given by school staff. All of the children spoken to have aspirations for the future and have started thinking about jobs and future interests. Well-being Champions have been trained, by Healthy Minds Lincolnshire, to provide mindfulness ideas and support to their peers. All Saints are currently developing this role within school. The team help children to understand their emotions and feelings better, help children feel comfortable sharing any concerns or worries and help children to form and maintain social relationships.
Teaching and Learning
During lockdown, the teaching staff provided work for children to do at home. Many were able to access remote learning using Google classrooms, staff spend much time in the preparation of these materials, so they match the children's needs. For those children who did not have IT access, paper copies were made available for the children to collect or for delivery. The staff team was proactive in ensuring that children had as many opportunities as possible to learn effectively. It has been noted that whilst there were some very conscientious families in the support for their children, there were a few who were not able to respond as fully as the school would have liked. Absence has impacted on the children's outcomes, and this is to be a focus of work for the upcoming terms, the teaching team is identifying ways of ensuring that the children catch up and have a focused programme of work. As a result of Covid all staff are developing an understanding of mental health, ensuring that they are able to recognise the signs that anxieties that may appear in others and in the children with whom they work.
Strong Management Steer
At All Saints there is a strong management team, equipped with a clear set of values and ethos, which are clear, unambiguous, and supported by all staff within the school. A development plan is in place to structure the way forward for the school, after the complications of Covid. Staff's understanding of an individual child's gaps and needs are based securely on a range of assessment processes, enabling learning to be shaped to the needs of individual children to ensure success.
Parental Engagement
Parents have clearly valued the hard work of staff, particularly during the period of the pandemic. Parents cannot thank the teachers enough for enabling the support for their children to continue through this extremely challenging time. Parents added that the school team is very good at signposting parents to agencies, which can support their child. The school has committed to ensuring that the additional work started because of the unprecedented global pandemic, which has engaged parents in a positive manner, is to continue.
Leadership and Governors
There is a clearly understood development plan, and all staff can articulate elements of this, which is focused on the needs of children and how best to enable those who have gaps in learning to catch up. It is evident that the leadership team has maintained a clear focus in order to steer the school through this challenging period of time. There is effective communication at all levels, enabling parents, teachers, and support staff to understand their role within the school journey.
Community
Even during the pandemic, staff have fostered links with the community. The Deputy Headteacher is keen to develop a sensory room and it would be beneficial to reach out to the local community to see if there are any groups who could support her in enabling development and planning to move forward, as this would be a valuable resource for the school children within it. In the locality there are a number of businesses including garages, garden centres and large stores in the centre of the city who might support funding for the project.
Find out more about the IQM Inclusive School Award
If your school is interested in obtaining the IQM Inclusive School Award or you wish to talk to a member of the IQM team please telephone:
028 7127 7857 (9.00 am to 5.00 pm)
or email: info@iqmaward.com for further details.
Want more information on the IQM Award? Click here to request your free IQM information pack