Alexander McLeod Primary School in Greenwich has achieved Centre of Excellence status.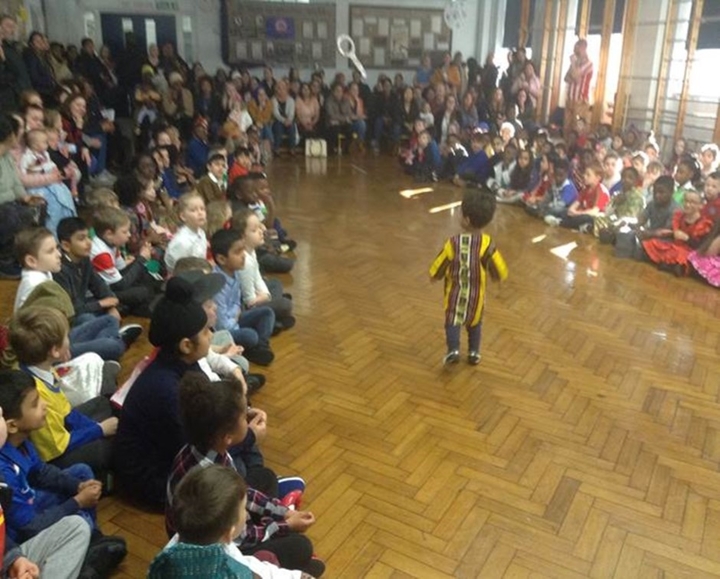 A Highly Inclusive School
Alexander McLeod Primary School is a highly inclusive school with a strong focus on treating each child as an individual. This was also noted by Challenge Partners in 2017 when their report stated that, "An exceptionally strong sense of purpose permeates the school. This is underpinned by a determination that all pupils do as well as they can, and is evident in the rapid progress pupils make, often within challenging circumstances."
Extra-Curricular Activities
The pupils are very well-behaved around the school and can articulate what they are learning. They are clear about the school's values and the golden rules which are displayed throughout the school. They are caring towards children with additional needs and aim to support them in their learning as much as they can. Members of the Junior Governors were keen to talk about the extensive range of extra-curricular clubs that are on offer and that all clubs are open to everyone. A year 5 pupil said,
"Teachers always support you with your learning and anything that you are worried about."
Some of the children's favourite clubs include ballet, football, gardening club, trampolining and choir.
Removing Barriers to Learning
Parents are particularly appreciative of all that the school has to offer, saying that all the teaching and support staff are very approachable, and that staff treat barriers to learning as a challenge to overcome rather than an obstacle. One parent said,
"This school is amazing. The SENCO is available every day, the Headteacher is very understanding. I can't fault this school in any way."
Parents also praised the Senior Leadership Team for their high visibility in the playground and the supportive attitude that they show to all the families.
A Skilled and Experienced Team
The Inclusion Consultant leads a skilled and experienced team who make sure that all intervention strategies used are carefully considered, communicated to all relevant people and involve parents. No special educational needs are a barrier to the child being able to make good progress.
A Collaborative Team
One of the Local Authority Speech and Language Therapists commented on the excellent skills of the team of support staff in particular. She described the inclusion team and all teachers as being very collaborative and willing to try new strategies as well as feeling confident about giving their own ideas. This is a common theme from all outside professionals who feel included within the school environment and that their work is valued by the school.
Dyslexia Friendly Status
Two years ago, the school was awarded the Dyslexia Friendly Status and is often used as an example of good practice by other professionals such as Speech and Language therapists and the Educational Psychologist.
Independent and Responsible Pupils
The nurture group provision is proving to be very successful due to its clear focus and the dedication of all staff to working collaboratively, an example of this was seen when a child in the morning provision was able to show that he had achieved his target in the main afternoon class by putting his leaf on the achievement tree. Children are taught to be independent and show responsibility as seen when preparing bagels for guests at the breakfast session in the nurture club.
A Recent Innovation
The most recent innovation, Pear class (for children with ASD) has also made an excellent start with the Autism Outreach team and the Education Psychologist praising the effort and problem-solving skills of the staff. Children are more focussed due to the less-stimulating environment and use of resources that are tailor made for their needs. Children were engrossed in listening to a teacher read to all of KS2 in their reading assembly. The pupils were keen to answer questions on the text and predict what would happen next.
Children Self-Regulate Their Behaviour
Helping children to self-regulate their behaviour so that they are able to learn is a strength of the school. The behaviour coordinator is highly respected and ensures that all staff use the same approach with particular children, preparing language scripts and holding meetings so everyone understands the approach and speaking to the identified children on a daily basis.
A Multi-Sensory Experience
The school has worked hard to adapt a concrete playground into an exciting, multi-sensory experience with activities for everyone. The KS2 Rainforest Café as a lunch area is a pleasant place for the children to eat.
High Quality Teaching
Teaching is of a very high quality and entirely inclusive. Displays are excellent and all have a very clear focus. The use of symbols and differentiation techniques used ensure good progress.
Find out more about the IQM Inclusive School Award
If your school is interested in obtaining the IQM Inclusive School Award or you wish to talk to a member of the IQM team please telephone:
028 7127 7857 (9.00 am to 5.00 pm)
or email: info@inclusionmark.co.uk for further details.
Want more information on the IQM Award? Click here to request your free IQM information pack.