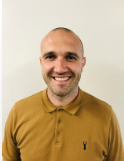 Samuel Gray

IQM Assessor
Samuel Gray has been working in education for 10 years and is currently in his second Senior Leadership position at Wodensborough Academy in Sandwell.
Samuel's previous SLT role was based at Cardinal Newman Catholic School in Coventry.
His roles have included a focus on Pastoral Life, Whole School Academic Outcomes and most recently Behaviour and Inclusion Lead.
Over the past two years Samuel has been the IQM lead at Wodensborough supporting the Academy to achieve Flagship Status.
Samuel is passionate about inclusion and is looking forward to supporting other education provisions to achieve inclusion for all.