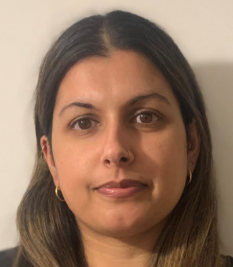 Pardeep Anning

IQM Assessor
Pardeep Anning has been in the teaching profession for 17 years and has worked in a range of different settings including Mainstream Schools, Specialist Settings, Libraries and Summer Camps.
Pardeep qualified as a SENDCo in 2014 achieving The National Award for SEN Coordination (NASENCO) and is currently working as an Assistant Headteacher, leading inclusion at Grovelands Primary School in Walton-on-Thames in Surrey.
Her responsibilities include Special Educational Needs and/or Disabilities, English as an additional language and mental health and wellbeing. She recently completed the NPQSL in SEND Leadership.
Pardeep is also a Designated Safeguarding Lead and has a Level 3 accreditation. She is a trained Mental Health First Aider and believes the mental health of staff, children and parents/carers should be highlighted and supported. Her commitment to mental health and wellbeing is represented in her role as a senior professional in the Anna Freud Education Panel, of which she has recently presented a workshop to educational professionals to support pupils with their pastoral needs both at home and in school.
As well as working full time as an Assistant Headteacher, Pardeep also delivers workshops to support families and professionals both in and out of school. She has recently worked with Spurgeons to deliver a workshop to Family Support Workers on Emotion Coaching and has delivered workshops in the local council supporting families of children who are experiencing Emotionally Based School Avoidance (EBSA).
Pardeep received the IQM Centre of Excellence Status in her previous setting and after working in her current setting for 6 months the IQM assessor urged the school to apply for the same
accreditation. This is due to their inclusive ethos, which has not only been demonstrated in the school, but has also been extended to the local and wider community. Pardeep is passionate about school improvement and evaluating school practice, and has volunteered to work with WE SEND on the Evaluate My School (EMS) programme.
Pardeep values and promotes inclusion in every aspect of school life and ensures all stakeholders play an active part, to ensure an inclusive, nurturing and welcoming environment is created for all.