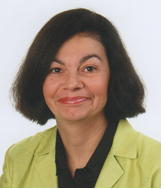 Nina Cromwell

IQM Assessor
Nina Cromwell has extensive experience in the Education Sector. She provides leadership solutions to schools. She is a highly experienced NPQH Qualified Teacher, Senior Leader, Consultant, Trainer, Mentor and Interim Leader with an excellent record of achievement. She is also a qualified Access Arrangements level 7 assessor.
Nina has worked in both Secondary and Primary Schools and has achieved excellent results at all levels in multi-disciplinary and multi-cultural settings, both in schools and as a SEND LA advisor.
She has specialist experience in inner-city schools and a proven track record of establishing services, delivering on targets and transforming departments.
Nina is extremely passionate about Inclusion and has worked with many schools to ensure they are inclusive. In particular, one Primary School in Merton where SEND progress moved from Ofsted RI to good.
As a former Head of School, Nina has a proven record of managing teams, inspiring staff and pupils and developing successful parental and stakeholder involvement. She is an expert in Inclusion, SEND and Safeguarding.