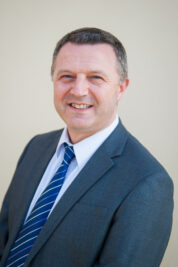 Kevin Donaghy

IQM Assessor
Kevin Donaghy is the Headteacher of St Ronan's PS in Newry. As Principal Kevin has the most up-to-date knowledge of developments in education, the NI Curriculum and assessment.
A recent inspection on Leadership and Management in the school said Kevin was a Principal who was highly effective in bringing about improvements in standards and in providing effective leadership.
They noted he inspires enthusiasm for learning and was effective in restructuring roles and responsibilities within the school.
Finally the Inspectors found Kevin had a very good programme of training for staff using workshops, external visits and action research and had a systematic approach to self-evaluation
As a Teacher and Principal Kevin has developed highly effective communication skills, written (including presentation) and orally.